General News
New:

Recreation Vessel Courtesy Check (RVCC)

Would you bet $200?

That's the cost of a fine for not having the required safety equipment in good working order on your boat. Let CPS-ECP volunteers help you beat the odds.

We will check your boat for free... and if you have everything you need, you'll get a Safety Inspection Sticker*.

If you don't have everything... we will explain exactly what you should have on board so you can be sure to win that bet.

And once you are boating safely, you're not just saving $200 - you could be saving your life.

Please contact Greg Bergeron - RVCC Officer for more information and to find out how to get an RVCC check from the Oshawa Power and Sail Squadron.
Added May 27, 2017
New:

Graduation pictures posted from the 2017 Graduation / AGM / Change of Watch

To view, please click here
Added May 27, 2017
New:

Flare Disposal Day Success

The gallant members of the Oshawa Power and Sail Squadron Executive braved the bitter May storm to make the Flare Disposal Day a success and collected 1458 flares.

Thank you to those that helped.
Added May 27, 2017
New:

Welcome to our new mobile friendly home page

The Oshawa Power and Sail Squadron is please to launch its new web site with a fresh look and feel that is more mobile friendly. Enjoy. However if you experience some problems with this new web site, please do not hesitate to email the webmaster for assistance.
Added March 13, 2017
New:

Order your FREE Discovery Pass any time until the end of 2017

Parks Canada is pleased to offer, as part of the Canada 150 celebrations, Canada's gift to you is Free admission and canal lockage in 2017. Enjoy Parks Canada places from coast to coast to coast!
A successful 2016/2017 Boating Education Season has concluded.
The 2016/2017 Boating Education Season for the Oshawa Power and Sail Squadron has concluded. If you have interest in one or more of our courses in the 2017/2018 Boating Education Season, please do not hesitate to contact the instructor by email. Go to Courses tab for more details.
LOST or STOLEN Pleasure Craft Operator Card (PCOC)?
Check out the #1 frequently asked question at: Click here
Canadian Power & Sail Squadron 75 Year Anniversary Flag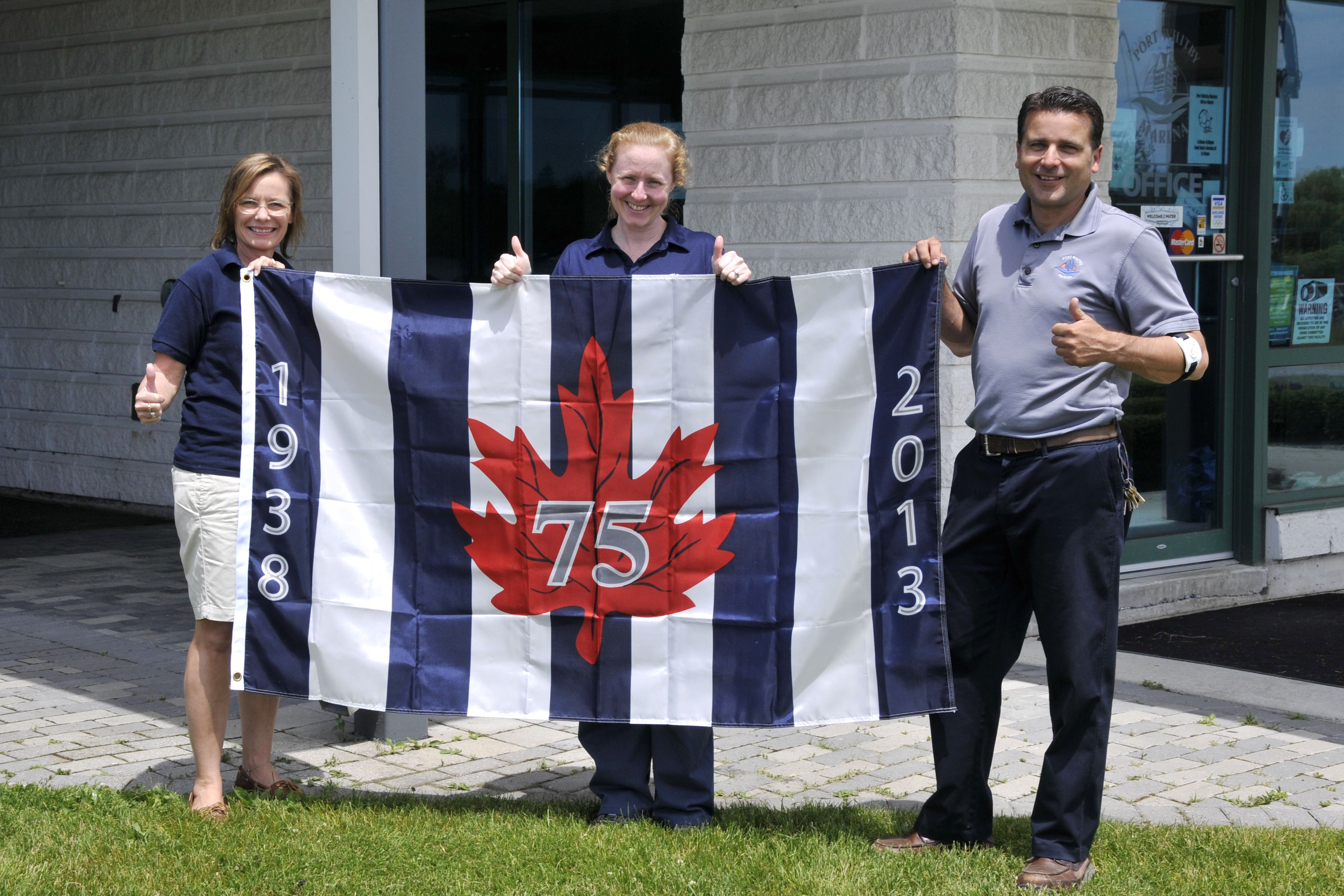 Canadian Power & Sail Squadron 75 Year Anniversary flag to be on display at Port Whitby Marina. This Flag was presented to Keenan Waters, Manager of the Marina by the Oshawa Power & Sail Squadron